How Ottawa should spend its $50 million to support local news
March 26, 2018
By APRIL LINDGREN, Ryerson University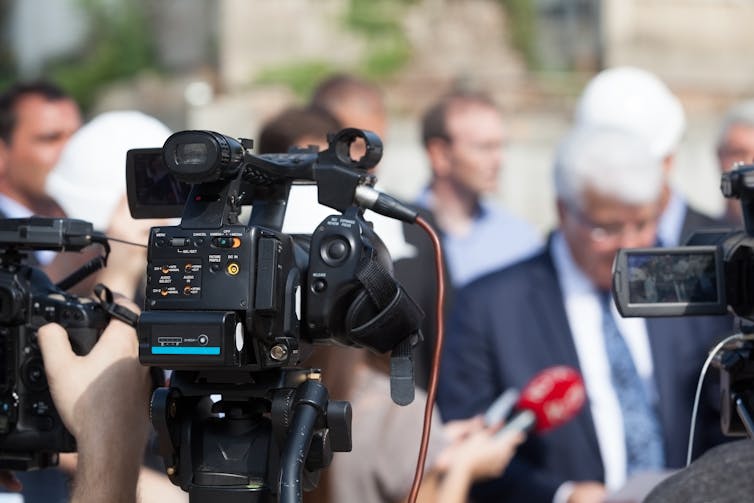 There's $50 million in federal government money on the table in Canada to support local journalism in the country's under-served communities over the next five years.
What's the best way to spend it?
Last month's federal budget announcement is an acknowledgement that access to reliable, timely, relevant local news is a growing problem. Data from The Local News Map, a crowd-sourced tool that tracks changes to local media, shows that 244 local news outlets of all types have closed in 181 Canadian communities since 2008. Over the same period, only 75 new operations were launched.
We are starting to hear about the consequences of what I call "local news poverty" — situations where the critical information needs of communities are not being met.
When Postmedia and Torstar Corp. announced the closing of three dozen newspapers in late 2017, local mayors worried aloud about how to keep their citizenry informed. In Thunder Bay, Ont., a city churning with political scandal and racial tensions, the local newspaper at one point had no local reporter on staff to hold officials accountable. Wire copy and short items by the paper's two photographers filled the pages.
The federal government did not dictate how its $50 million will be spent: It said only that the money will fund "independent non-governmental organizations." And so the search begins for ideas worth supporting.
'Local democracy reporters'
Experiments aimed at strengthening local news are already underway in other jurisdictions. In the United Kingdom, the BBC is paying the salaries of 150 journalists who are embedded at newspapers, radio stations, online sites and other local media organizations. These "local democracy reporters" cover local political and civic news and their stories are shared with more than 700 media outlets that have signed onto the Local News Partnerships Program.
The recently launched Report for America initiative aims to place 1,000 reporters in U.S. newsrooms over the next five years to fill gaps in community coverage. Report for America, funded by the Google News Lab, foundations and individual donors, pays half of each reporter's salary; local news outlets and philanthropists must cover the other half.
The $50 million could be used to create a made-in-Canada version of these initiatives, but paying the salaries of legions of journalists isn't sustainable over the long term: five years from now, when the federal funding is gone, the reporters will be gone too.
The money would be better spent on projects that build capacity in local newsrooms. The Local News Lab, another foundation-funded project in the United States, explores strategies for building a stronger local news environment in New Jersey. Drawing on this work and experiments in local newsroom sustainability across the country, it produces reports offering practical advice on everything from running effective crowd-funding campaigns to putting out a newsletter.
These resources help startups and other struggling local news outlets avoid common mistakes, and they are worth supporting. But a $50 million investment should also buy a more concrete, lasting contribution to quality news coverage.
Stories with strong local angles
The establishment of a Local News Data Lab would be a good start. The idea is borrowed from two recent data journalism initiatives in the United Kingdom. The BBC's Shared Data Unit brings together experienced BBC data journalists and reporters seconded from the local media.
The local reporters build their skills as part of a team that uses data that is publicly available or obtained via freedom of information requests to produce national stories with strong local angles.
One recent project that made data on the decline of local bus services available to local news partners in an easy-to-use format resulted in dozens of local stories. The Shared Data Unit also provided local journalists with a background briefing document that outlined why the bus network was in the news, why the issue is important and what the data shows.
Graphs, question-and-answer interviews with experts and examples of localized stories were also included.
The Bureau Local, launched in March 2017 and run by the not-for-profit Bureau of Investigative Journalism, is another U.K-based project that focuses on data journalism. Last year the Bureau's journalists worked with local reporters and the volunteers in its network to produce a national story chronicling how victims of domestic violence were being turned away from cash-strapped crisis shelters.
The investigation, based on open government data, FOI responses, a survey of shelter managers and interviews with women who rely upon the shelter system, resulted in more than 30 local stories.
Political donations database
But we don't need to look so far afield for an example of how a Local News Data Lab could enrich local journalism here in Canada. Reporter Zane Schwartz, this year's Postmedia annual Michelle Lang Fellow, performed a great public service last week when he released Canada's first centralized, searchable database of political donations.
Schwartz spent a year gathering six million records for provincial and federal donations — many of them in formats that were less than user friendly — and organizing them into an accessible database.
His subsequent story points to contributors who exceeded provincial caps on donations, donations to Yukon politicians from supporters who don't live in the territory and numbered companies that make for a less-than-transparent system.
Schwartz invited engaged citizens and other media outlets to explore the data. Journalists who query the name of local constituency associations or their federal and provincial representatives are almost guaranteed a story.
A Local News Data Lab run by experienced data journalists could make this type of collaborative, investigative local storytelling an ongoing reality in Canada.
Possible partners?
If it operated under the auspices of a school of journalism, student interns could work with the professionals and get hands-on data journalism experience. Or it could collaborate with an organization like The Canadian Press — the national wire service's news subscribers would be a ready-made network of local partners.
Sure, there will be instances where newsrooms won't produce stories even when they are spoon-fed local data and a how-to-do-it story recipe. But overall, there will be more local investigative stories about issues that matter.
Student internships, newsroom collaborations and training opportunities for reporters in the field will build much-needed data journalism skills in local news organizations across the country.

And if the lab proves its worth after five years, other funders may step up to keep it going. The Local News Data Lab will not singlehandedly solve the problems of local journalism in Canada. But public money invested in it would be money well spent.
April Lindgren, Associate Professor of Journalism, Ryerson University
This article was originally published on The Conversation. Read the original article.